Contact A Burn Injury Attorney
Houston Burn Injury Treatment | Scrubbing | Debridement & Excission | Bandage Change | Infection | Houston Personal Injury Trial Attorneys
Early and aggressive burn treatment may make the difference between life and death in most severe burn accidents. With all serious and severe burn injuries, the burn victim must be taken to the appropriate burn facility. Houston personal injury lawyers who frequently handle burn injury cases will probably have a relationship, or at a minimum will have deposed, doctors from one or more of these facilities:
Hermann Burn Center
John S. Dunn Sr. Burn Center
6411 Fannin Street, Houston, TX 77030
(713) 704-4350
Shriners Hospitals For Children - Houston
6977 Main Street, Houston, TX 77030
(713) 797-1616
Treatment of severe burn injuries involves treating the burns themselves as well as secondary inhalation injuries.
The Burn Area Treatment
Within the first forty-eight (48) hours of suffering a burn, it is absolutely essential that the burn victim receive expert medical care. Physicians and hospitals must:
1. Prevent fluid loss from the tissue
Burn patients will lose a lot of fluids. The body directs sodium chloride and proteins to flow into the burn area, thereby causing blisters and edema (swelling). In a majority of severe burn injury cases, there will also be a noted low urine output and low blood pressure. Doctors combat these effects by providing patients with fluids, electrolytes, pain medication and often insert a catheter. Burn patients will continue to lose fluids until their wounds have been covered. Wounds may be covered using ointment and a dressing. However, for more severe wounds a skin graft may be needed. Skin grafts require a very invasive procedure and almost always have complications. Also, because the patient may be in shock or severely traumatized, a severe burn patient may not be a good surgical candidate due to a decreased strength. At times like this, the wisdom and judgment of an experienced burn doctor is absolutely essential and that is another reason why the patient should be moved to a burn center as soon as possible. Time is of the essence.
Skin Grafts - In the last ten years, medical science has made many strides in skin grafting.
Donor Sites -The first option is to use the patient's own skin. These skin grafts involve taking skin from unburned sites on the body, referred to as "donor sites," and grafting that skin onto the burn wound. By using a patient's own skin to cover a burn wound, the risk of tissue rejection is eliminated. The grafted skin attaches to the underlying tissue and effectively closes the wound. A skin graft "takes" when new blood vessels and tissue form in the injured area. Sometimes, skin grafts do not "take" because of complications such as infection (the most common cause of graft failure) or shearing (pressure causing a graft to detach from the skin). While grafting is a proven and effective treatment, it is important to understand that all grafts leave some scarring at both the donor and recipient sites. Unfortunately, for the victims of severe burn injuries, it is impossible to utilize the victim as a donor because there have been burns over a large section of the body and a donor site large enough to cover all the wounds cannot be located.
Grafting Alternatives When There are No Viable Donor Sites
When a patient does not have enough healthy skin to donate, temporary coverings of cadaver skin, when available, may be used. This skin must be "cleared" as HIV and Hepatitis negative before use;
Pigskin can be used as an alternative to cadaver skin;
Artificial skin may be used. Artificial skin is a relatively new area for burn treatment and the results so far have been positive. Doctors may use Integra Artificial Skin Dermal Regeneration Templates or Original BioBrain to cover wounds. These products are proving to be life saving for many burn victims; and
Cultured skin is a result of 20+ years of research. For the past ten years, healthcare professionals have had the ability to grow a patient's skin in a laboratory under special tissue culture conditions. With just a very small piece of the burn victim's actual skin, lab technicians can grow enough skin in about 3 weeks to cover nearly the entire body. This hold great promise for the future.
2. Prevent and reduce the chance of infection
Infection is always a serious threat to burn patients. Typically, the burn patient will be given an immediate IV broadband spectrum of antibiotic therapies as well as a tetanus shot. Burns may become infected because the skin is less able to protect itself from infection by bacteria. That is why more serious burns need to be dressed and kept clean to help prevent this while the skin heals. If infection is suspected, treatment with a more specific and stronger antibiotic may be needed. An antibiotic often used for dermal burns is Silvadene; it is useful in the prevention of infections in second or third degree burns. It should be applied to skin once or twice daily and all previous medication must be removed before applying each new dose.
3. Perform Debridement (De-Breed-ment) & Excision
Debridement and excision are both methods of cleansing or preparing a burn wound for proper assessment, classification and treatment. The main purpose of debridement and excision is to remove damaged tissue and promote healing. The process involves surgically removing dead tissue and blisters to expose the true depth and severity of a wound. In some burn injuries, dead tissue naturally falls off as part of the healing process. However, in most cases, the dead and damaged tissue must be painfully removed.
Pain & Suffering - The debridement procedure has been described by expert witnesses in court as one of the most painful surgical procedures performed upon the human body. During this procedure, which is done about every 4 to 5 days, the burn victim is generally not given anesthesia locally or generally. The patient is given analgesics and narcotics but one 1982 study of U.S. burn units called into question their efficacy in pain relief. Often, the patient or the patient's family will request to have anesthesia applied during this process but because of physical weakness and perhaps the presence of an obstructed airway due to inhalation injury, a general anesthesia cannot be used and a local usually is also not possible because of an immune depression effect, which can heighten the chance of infection due to the already-lost skin.
An experienced Houston burn injury lawyer will act quickly to memorialize the debridement procedures. If possible, the burn victim's attorney will have a professional videographer attend this session of debridement. However, this is not an easy task as there are HIPPA privacy issues as well as administrative policies at most burn centers that make it very hard to videotape in the actual burn trauma unit. That does not mean that a tenacious Houston personal injury attorney will not at least try to have these very painful procedures memorialized in some fashion. One day, a jury may need to see and hear the actual procedures to understand why the person needs to be compensated fairly for their physical pain and suffering, and to get at least some idea of the degree of pain and suffering that victim endured as a result of their burns. For a more complete understanding of what types of economic compensation is available to Houston burn victims and their family, please visit the Compensation for Burn Injuries page.
Perhaps medical science may one day develop to the point that the debridement process is not so painful. Most recently, major advances have been realized using the new super-oxidized water technology called Microcyn® to clean and debride the wound while minimizing the pain traditionally experienced by burn victims.
Inhalation and Respiratory Treatment
Many Houston victims of fire accidents have both smoke inhalation and thermal injury. Inhalation injury from smoke and the noxious products of combustion in fires may account for as many as 60-80% of fire-related deaths in the United States, many of which are preventable. Excellent care rendered at today's burn centers has greatly reduced the mortality from surface burns, while the mortality from pulmonary injury has been increasing. In fact, respiratory failure is now the most common cause of death at burn centers. Diagnosis of inhalation injury is not always straightforward, sensitive screening tests are lacking, and symptoms may be delayed until 24-36 hours after injury. If the airways are not obstructed, oxygen therapy and hyperbaric treatments may be ordered. Early respiration training deepens inhalation and therefore prevents pulmonary infections in many Houston burn victims.
Many burn injuries require fire department services to assist in securing a scene after an accident so more people don't get hurt! Here are a few local fire stations:
Houston Fire Department
500 Jefferson Street
Houston, TX 77002-7356
(713) 247-5000

Fire Station 58
10413 Fulton Street
Houston, TX 77076-3514
(713) 692-1945

Ponderosa Volunteer Fire Department
17061 Rolling Creek Drive
Houston, TX 77090
(281) 444-8465

Aldine Community Fire Department
1009 Aldine Bender Road
Houston, TX 77032-2803
(281) 590-8184

Little York Fire Department
10410 Airline Drive
Houston, TX 77037-1304
(281) 448-0391

Champion Area Volunteer Fire
12730 Champion Forest Drive
Houston, TX 77066-1528
(281) 444-2014

Jacinto Fire Department
1126 Mercury Drive
Houston, TX 77029-2006
(713) 674-1841

Houston Fire Department
11410 Beamer Road
Houston, TX 77089-2351
(713) 247-5000

Houston Fire #2
5880 Woodway Drive
Houston, Texas 77057
(713) 837-0311
After the Emergent Phase - Rehabilitation & Psychological Therapy
Generally, rehabilitation therapy for patients with burn injuries begins on the day of the burn. As soon as possible, rehabilitation measures should be implemented in the therapy. After completion of the intensive care period, the patients are transferred in-house to a follow-up ward where further wound care, physiotherapy, ergotherapy, and psychiatric care help to maximize the patients' autonomy are available. All physiotherapy requires adequate analgesia (pain medicine). Early respiration training deepens inhalation and therefore prevents pulmonary infections. Edema prophylaxis and therapy, scar care, for example through external agents, compression garments, and the specific prophylaxis of scarred contractures in critical locations (throat, face, hands, and joints) are the fundamental pillars of multimodal rehabilitation. Although physical deficiencies are most important, the diagnosis and treatment of post-traumatic stress symptoms, PTSD, play a significant role in rehabilitation therapy as well. Over 60% of all severely burned patients develop post-traumatic psychological problems. Therefore, psychiatrists and psychotherapists are permanent team members on burn wards.
Scarring & Disfigurement
The extensive and deep loss of skin tissue is the source of most problems in cases of severe burn injuries. Scarring of areas not given surgery, or scar formation within the graft, often lead to symptoms that can affect the Houston burn victim's quality of life. If deep dermal burns are not identified as such and are wrongly given conservative treatment, scar contractures may form. These contractures may lead to disfigurement and/or functional impairment, depending on the localization.
Houston personal injury trial lawyers will document any scarring as well as any revisions by plastic surgeons to the scarring. Texas law allows the recovery of mental anguish and physical disfigurement. No stronger set of facts can be presented in the Harris County courtroom than a serious Houston burn injury lawsuit. It warrants the award of potentially very large amounts of money to fully and fairly compensate the Harris County burn victim. Obviously no amount of money is worth going through what you or a loved one has gone through; But the frailties of the law only permit economic damages when something as tragic as a severe burn injury occurs. Thus, your Houston burn injury lawyer will make it clear from the outset of any mediation or settlement conference, or, if your case does not settle and must be tried to a verdict, your Houston burn injury lawyer will make sure the jurors know from the outset that this is a very serious case and that justice must be served to compensate you, the burn injury victim.
Facial Scars and Your Houston Burn Injury Attorney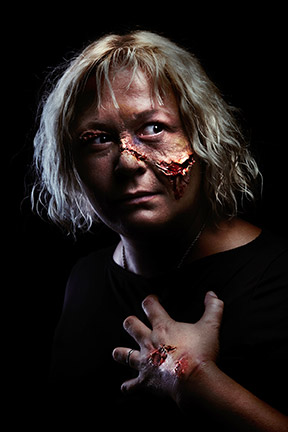 When the skin is in the process of recovering from a burn injury, whatever the cause or type of burn, facial scarring will occur wherever multiple layers of the skin have been affected. Once a facial scar forms, it is permanent, but may be made less visible or relocated surgically. Most people that have been burned in the face are self-conscious about their facial scars. Sometimes, these feeling are so strong that the person may suffer a loss of self worth or diminished self esteem. In terms of the scar's physical effects, some people may also experience diminished functioning of the eyes, mouth, or nose as a result of the facial scars. Plastic surgeons offer many new techniques, both surgical and non-surgical, which offer improvement for burn scars.
Non-Surgical Facial Scar Revision. The non-surgical techniques include application of topical treatments, silicone gels, and in-office injection of steroids. These treatments need to continue for a few months before changes in the scar appearance are noticed.
Surgical Scar Revision. Surgical techniques for scar correction include the release of scar bands produced from burns, excision of scars with plastic surgery closure, and dermabrasion. These techniques are performed with the addition of local anesthesia or sedation in the hospital. The improved results are seen almost instantly, as the recovery is usually only one to three weeks
Selecting the right Houston burn injury attorney is crucial and should be made before the revisional facial treatments so that the burn accident lawyer can meet and speak with the plastic surgeon ahead of time to discuss the permanence of these scars without treatments. Also, if you do not have insurance, doctors in some states will accept what is called a "Letter of Protection" or "Letter of Guaranty." When there is no insurance, a Letter of Protection means that the doctor will treat you and look to be paid at the end of your case. The ability to ethically issue a Letter of Protection varies from jurisdiction to jurisdiction and your Houston burn injury can explain what the law is in Texas.
Scars on Arms, Legs, Stomach and/or Back
Burns that affect areas of the body other than the facial area are typically much more amenable to grafting.
At the point were outpatient care begins, a victim of burn injury will need to stock some medical supplies. Some local medical supply stores in Houston include:
AMB Medical Supply
5803 Templegate Drive
Houston, TX 77066
(713) 553-3516
Houston Stat Medical Supply & Equipment
8805 Solon Road Suite G7
Houston, TX 77064
(713) 779-0644
Medco Medical Supply
10305 Round Up Lane Suite 100
Houston, TX 77064
(713) 956-5288
Cy Fair Medical Supply
10511 Jones Rd.
Houston, TX 77065
(281) 469-2300
Hallmark Medical Supply
10015 N. Eldridge Pkwy.
Houston, TX 77065
(281) 469-4840
Jansen Medical Supply
6125 W. Sam Houston Pkwy., Suite 201
Houston, TX 77041
(713) 896-4050
Large retail chain pharmacy stores, such as CVS, Walgreens, and Rite-Aid are also good resources for medical supplies.
Houston Wrongful Death Lawsuits Resulting from Burn Injury Deaths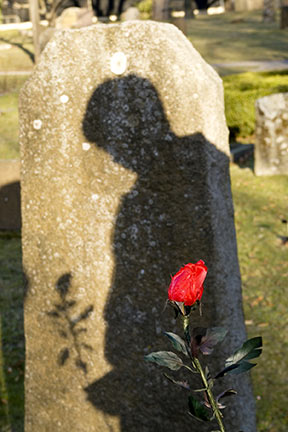 By far, there is no sadder situation that when a family loses a loved one. Just the normal loss of a parent, a child, or a spouse, is sometimes too much to bare, even when it is due to natural causes. However, a death caused by burning is frequently too much for a family to handle. The thought of the loved one's last moments constantly run through the minds of their family members. In fire deaths, there is often no evidence of the decedent's conscious pain and suffering, and the family only hopes and prays that the smoke actually caused them to die before the flames reached their loved one. These thoughts haunt the family as they make preparations for the funeral. Truly, there is no amount of money that can even come close to repairing these wounds. Money seems useless to even talk about when these horrid situations occur, but it is often the only legal remedy available in these unfortunate situations.
Not all situations like this are caused by the negligence of another. Often, bad things just happen. But it can feel even more heart-rending if the situation could have been avoided if just someone had acted with reason, or if a company just spent a little more money on safety instead of seeking to improve their profits, or, worse yet, if that man or woman had just called a cab instead of risking driving home after a party where alcohol was served. Most Houston trial lawyers will tell anyone that when the family of a person reaches out to them after a burning death, it's not the recovery of money that motivates them; it is retribution, justice, and feelings of closure. The family has suffered, and keeps suffering. They seek help because they want the person or company that did this to their beloved father, or mother, or child to feel the pain that they feel and to think twice before engaging in negligent or reckless behavior in the future. If you are religious, then you believe that judgment rests with God. But if you are religious, you know that the Bible speaks about justice. It is, in fact, the Bible and Judeo-Christian law that we get Texas laws. From the Holy Bible, in Exodus 21:18, it states:
"He who strikes a man so that he dies shall surely be put to death… If men have a quarrel and one strikes the other with a stone or with his fist, and he does not die but remains in bed, if he gets up and walks around outside on his staff, then he who struck him shall go unpunished; he shall only pay for his loss of time, and shall take care of him until he is completely healed."
Yes, judgment day will come to those who have wronged you and your family but Texas law is there for you and it takes a strong and powerful attorney to use that law for you and your family while we are hear on this earth. Man's law may be frail but, in moments when tragedy has fallen upon us, it is sometimes all we can use to seek justice.
Houston wrongful death attorneys know exactly what to do when you call; they know the anguish you have felt, are feeling and will feel. They will comfort you because they have been down this road, unfortunately, too many times when representing the families of burn victims. Houston trial lawyers knows that money is not why you reached out to them, but that money is all they can get you and they want to get you the most they possibly can, both to serve justice and to teach a lesson to the parties that caused your loved one's suffering. Companies can sometimes be heartless and it can seem that the only sorrow they feel is when their profits are down. That is often true of Houston companies, large and small, or large foreign corporate conglomerates. The job of a trial lawyer is to make them feel pain and taking their money is the only way that will happen.
If your family member did not die in the fire but later died in the hospital or en route to the hospital, it is the job of the Houston wrongful death lawyer to show the Harris County jury exactly what type of pain was suffered prior to the death. This is also true when the victim died at the scene. Conscious pain and suffering is what is called a "legal element of damage." It is usually the estate of the decedent, through a legal representative, that maintains this cause of action. Also, the estate, in most states, can seek punitive damages. Punitive, or exemplary, damages are literally to punish the wrongdoer. In most jurisdictions, when seeking punitive damages, the injury attorney may introduce evidence of:
The nature of the wrong;
The character of the conduct involved;
The degree of culpability of the wrongdoer;
The situation and sensibilities of the parties concerned;
The extent to which such conduct offends a public sense of justice and propriety; and
The net worth of the defendant.
Houston wrongful death claims are also available if the person dies from complications. If the person actually lives through the burning incident, they are still subject to respiratory failure, sepsis, multi-organ failures, and so many other complications that occur after the body has gone through such a traumatic event. If your loved one died due to such complications, you still have the right to sue for wrongful death, and your Houston burn injury lawyer can help you handle your wrongful death case.
Please contact a Houston Burn Injury lawyer or a Houston Wrongful Death Attorney now for an initial free consultation.
Serving clients throughout Southeastern Texas, including Aldine, Baytown, Bellaire, Beaumont, Channelview, Cloverleaf, Conroe, Deer Park, Friendswood, Galena Park, Galveston, Hedwig Village, Highlands, Hilshire Village, Humble, Jacinto City, Katy, League City, Magnolia, Mission Bend, Missouri City, Pasadena, Pearland, Porter, Sealy, South Houston, Spring Valley, Stafford, The Meadows, The Woodlands, Waller, West University, and other communities in Fort Bend County, Harris County, and Montgomery County.
Call your Houston Burn Injury Lawyer today to discuss your case.